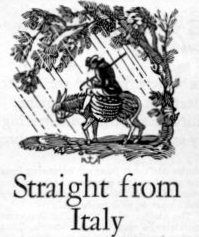 "I read a tale the other day, in the course of which the remark occured that to live in Italy was to condemn one's self to death by slow starvation – the food there is so bad.
I was astonished. My own experience is so strongly the reverse."
If the view in this article from the April 1924 issue of the Woman's Home Companion was a typical view of the time, our opinion of Italian cooking has definitely changed. Many people today consider Italian one of their favorite varieties of food, and I along with many others have ventured to Italy looking forward to the chance to partake in some authentic Italian food there.
As the author of this article, Marie Jacques, goes on to explain,
"Italian cookery has a tremendous range. The peasants and the lower middle-class live with a Spartan rigidity, as far as food goes. A little child can prepare the meal for a workman's table. But when you get beyond that you find much elaboration, and many good ideas which are totally unknown to American cooks. Let me suggest a few."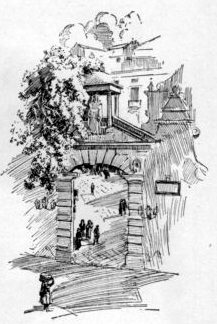 Here now are a list of recipes provided in the article, along with my brief summary of what each recipe entails. If any of them sound good to you, just click on the scan of the full article at the end of this entree where you can see the complete recipes.
1) Risotto a la Milanaise -
"This is a sort of very thick soup – so thick that poor folks spoon it up on their bread, thus making a substantial meal." Rice, onion, bouillon, grated cheese, and butter.
2) Potage au Chou –
Rice and cabbage boiled together, then combined with butter, onions, stock, and grated cheese.
3) Oeufs en Filets –
"this unusual entree is as tasty to eat as it is simple to prepare." Fry strips of onions, mushrooms, and garlic in butter, add flour, and make a sauce of it by adding stock. Then add hard boiled eggs.
4) Petits Oeufs –
egg yolks made into a paste and formed into the shape of little eggs, which can be used as a decoration or eaten with cheese sauce.
5) Friture Melee –
take leftover scraps of various meats and vegetables, cut into small pieces, cover them in batter and deep fry them. "The charm of the dish is that you don't know what you are getting! All the little fritters look alike, and yet, as you help yourself to three or four of them, you are quite probably getting a varied repast of meat, fish, and vegetable!"
6) Potrion a la Parmesane –
"Italy grows great numbers of large, watery things, of the marrow and squash tribe. Even if they are not exactly the same as yours, I have no doubt that the same recipes will suit both." Cube your squash, boil and drain, fry in butter, and then sprinkle with cheese and brown under the grill.
7) Herrings or Mackerel a l'Italienne -
soak the fish in oil and vinegar, then flour and fry.
8) Foie de Veau a l'Italienne –
calves' liver with herbs and vegetables, served with a border of the "petits oeufs" from above.
9) Macaroni Dishes –
"There are various ways in which to prepare an appetizing dish of macaroni; the following five recipes, however, are in much favor among Italians." These recipes include pasta with brown sauce, tomato sauce, butter and grated cheese, a creamy cheese sauce, and pasta in a white sauce that you eat the next day when it has set into a firm paste and you can cut it into squares.