"To relieve dignified plain-walled rooms of the blight of monotony and coldness, patterned floor coverings are often required to supply a necessary decorative quality."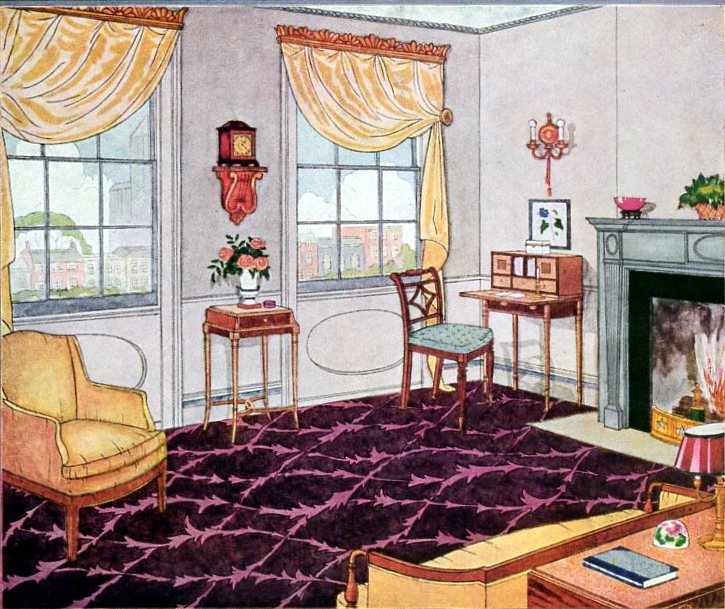 "How much the Georgian interior above, for example, is enhanced by the rich plum deep-pile Wilton carpet traversed by a continuously flowing pattern of lighter shades."
This vintage home decor article from the June 1929 issue of the Woman's Home Companion shows some of the trends in floor coverings of the late 1920′s. I especially like the vivid color of the plum-colored rug shown in the living room above. In addition to the rug, the article also explains the other room decor as follows:
"Touches of old gold, amethyst, lilac, gray-blue, apricot and pomegranate in sofa, chairs, bric-a-brac, lampshades and pictures introduce intermediate steps between floor and wall colors. Yellow damask drapery hanging under brass cornices is caught up and held with yellow silk cords in graceful lines that again repeat the trend of the carpet pattern. The blue-gray wood mantel, brass lighting fixtures, fireplace furnishings, including fender and andirons, are period copies and add to the beautiful unity of the room."
Although I definitely prefer the look of the room above, the article also shows us a more subdued, understated room with a plaid rug made up of "blue-green, yellow, gray, black and petunia red coloring woven together."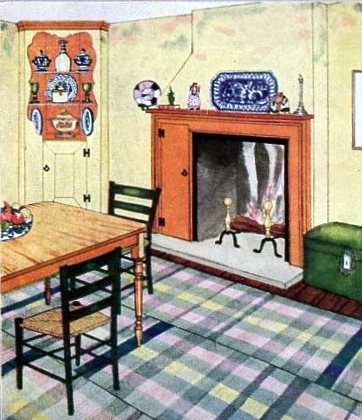 Here is the magazine's description of this room:
"A warm inviting color scope for a cottage dining room starts with a rag carpet. Above the black floor which is almost completely covers, rise pale amber rough-coated walls and pumpkin yellow woodwork trimmed with burnt orange."
The article also makes sure to point out the charming green trunk in this room:
"While the woodbox (just at right of fireplace) seems to resemble a Spanish dower chest, it is in reality an old trunk covered with imitation moss-green leather and ornamented with brass upholstery tacks and fancy brass lock."
With some modifications, I would definitely use the first photo as inspiration for decorating. To me, fashion and decor from the 1920′s is often the easiest for me to translate into modern day style.