Traveling may not have been as easy in the 1920′s as it is now, yet it was still a popular activity for those who could afford it.
Instead of turning to google or trip advisor or any of the myriad ways we now have to find information for our trip, travelers long ago turned to hard copy travel guides. There were of course actual books published that contained a wealth of information. But as we can see here, popular magazines also provided more condensed versions of trip advice for some of the more common destinations.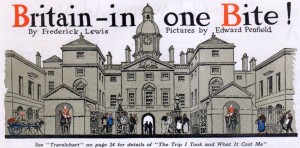 This amazing article comes from the April 1924 issue of the Woman's Home Companion magazine. It would have been worth it for the awesome illustrations alone, but this little piece of writing has much more to offer. As we read it, we actually get to travel along with a travel guide who leads us right through the Britain of the 1920′s. To him the country is foreign (he is American) but the time period is not. The upbeat, witty, intelligent writing seems to me to capture the essence of the 20′s.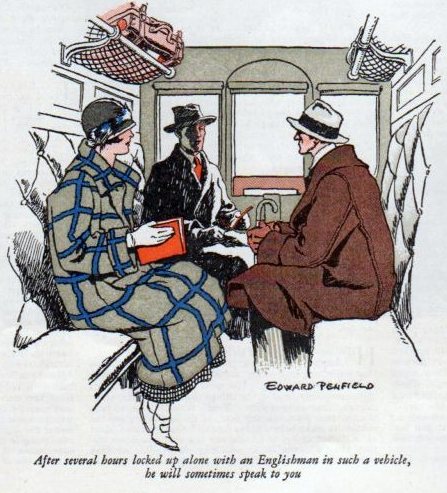 The writer, Fredeick Lewis, travels through and comments on various British cities. I will share some of the highlights of his travels here.
On British Train Travel:
"The little lunch baskets which the guard brings you, if you ask him to, are filled with cold cuts and apple turnovers and other English goodies – the whole thing costing less than a dollar. The meals in the diners are not so good as those on the European continent, but far better than ours, except that you have no choice, and get the food thrown at you by nervous, undersized waiters who pretend not to understand the English language in its revised American version."
Chester and Liverpool:
"We aren't going to spend out first British night in Liverpool, not while the Woodside Station still stands, and the nifty little third-class railway carriages run out to Old Chester… Chester is only a few minutes from Liverpool, geographically – but, sentimentally and atmospherically considered, the two communities are centuries apart."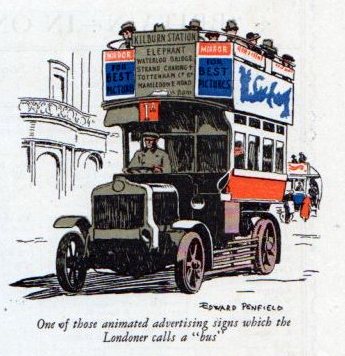 Edinburgh:
"Edinburgh is one of those places in which even the casual tourist feels a proprietary interest. In a week's time, the smoke from the city's hundred thousand chimneys becomes almost essential to the nostrils. In a month, unless it should happen to rain every day, even a New Yorker feels at home. And yet, Edinburgh is an extremely nationalistic place. It never forgetsthat it is just as much of a capital city as London or Washington – and almost as much of one as Dublin itself!"
Stratford-on-Avon:
"…Anne Hathaway's cottage at Shottery has been raised to the level of a shrine, and Anne endowed with a saintiness which even she would never have claimed. Her house, however, is worth seeing, quite apart from her relation to the bard, as a well-preserved example of the simple farming life of the Elizabethan times."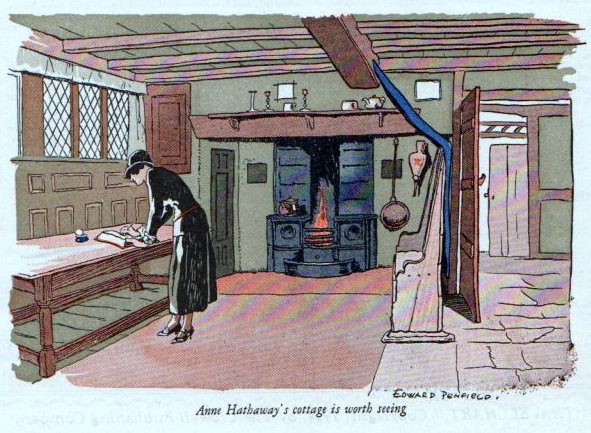 Oxford:
"…my advice is to get yourself led blindfolded to a closed cab, and hold your hands over your eyes until you reach 'The High.' Here you may gaze on 'the finest street in Europe,' and introduce yourself one after another to the twenty-four colleges which comprise the University of Oxford. This job can be done in a day."
London:
"The first time I was in London, I did what most Americans do – and no American should do – put up at one of those big imitation American hotels that tower above the Embankment, and make faces at the Thames. Here busy men and tired women live out their multiple-press lives, just as if they were in Chicago, only The Blackstone is an infinitely better hotel. It's strange how some people travel so far to stay at home!
"The thing to do, and the thing I have since done, is to take your luggage to one of those little, low-ceilinged, really English hostelries in the crooked streets between Regent Street and Piccadilly, where people live English novels as well as read them."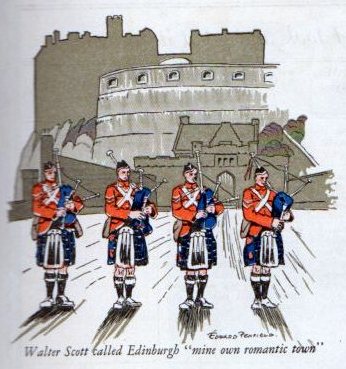 More London:
"Once established in one of those little inns, filled with the atmosphere of Dickens's period and the sanitary conveniences of Chaucer's, you may be a bit homesick. And if you are just crawl up on one of those animated advertising signs, which the Londoner calls a bus, fish out a penny that isn't a penny at all but two pennies, get a ticket that no one ever takes, jolt yourself down the Strand, dive into one of the big tourist caravansaries and, in a jiffy, you are in New York or Duluth! …
"But even in this near-American apartment, you know you are not in America. You don't have to feel the black fog rolling into that American lobby down-stairs, shooting up those American elevator shafts, and peeping through that American keyhole, to know that you are not in New York. All you have to do is to look out of the window."
If this little excerpt has tempted you to read more, here is the entire article for you to read. Just click on the thumbnails for a version that should be big enough to read clearly: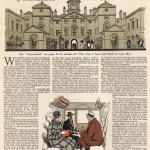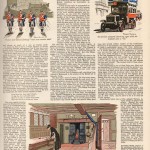 And one other wonderful addition to the article – the author provides us with a travel chart he made up, which lists suggestions of what to do in each city, what he did and didn't like etc. Again, click on the thumbnail to look at his chart: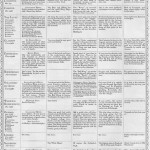 As the author says,
"You'll see most of London in ten days, and you'll live over what you do see all the rest of your life. London is, to me, the most satisfying city in the world."