Many of us have our own collections of little items we love.
I happen to collect inexpensive little magnets from every county or city I visit, and I love the excitement of finding the perfect one to take back with me on the plane. They are always on display so I can look them over any time.
Well, movie stars are not so different in this sense, if the March 1933 issue of McCall's magazine is to be believed. According to this short article I found there, entitled "Additions and Distractions," five popular Hollywood actresses of the time each had their own particular obsession with various items. Without further ado, I present to you here the collections of Joan Crawford, Wynne Gibson, Marie Dressler, Carole Lombard, and Marion Davies.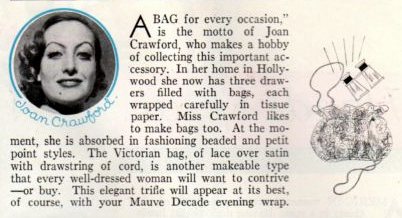 You can find the blurb about Joan Crawford above. According to the magazine, she makes and collects bags.
"In her home in Hollywood she now has three drawers filled with bags, each wrapped carefully in tissue paper."
Next is Wynne Gibson (who, by the way, was the only actress of the five with whom I was not familiar):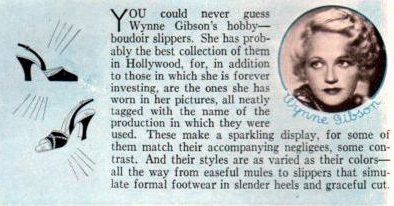 Wynne has the best collection of boudoir slippers in Hollywood.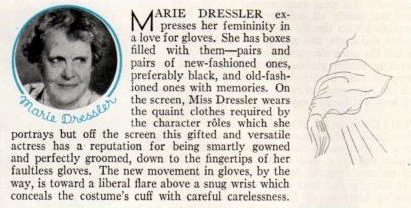 Marie Dressler has a love for gloves. "She has boxes filled with them – pairs and pairs of new-fashioned ones, preferably black, and old-fashioned ones with memories."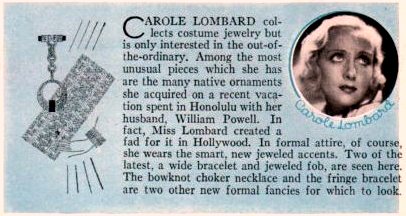 Carole Lombard collects costume jewelry but is only interested in the out-of-the-ordinary.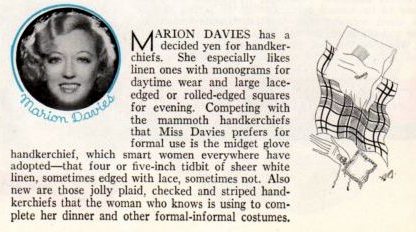 Marion Davies loves handkerchiefs. "She especially likes linen ones with monograms for daytime wear and large lace-edged or rolled-edge squares for evening."
Coincidentally, if you are a fan of Marie Dressler, Joan Crawford, and/or Marion Davies, and haven't seen it yet, I highly recommend The Hollywood Revue of 1929. The dvd can be ordered online, or if you'd prefer there are also a lot of clips from it available on youtube. It provides a great glimpse of all 3 of these stars in one of the first talking films ever. It's like one big variety show, and there is a lot of singing and dancing and comedy. I've never seen anything else like it!