"If you're one of those who get about a lot, you'll have noticed that the smartest trick these days is variety in finger nails."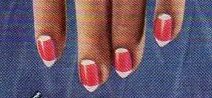 In 1933, Cutex ads appeared in various magazines exclaiming that the variety in nail colors is the newest trend in manicures.
"At the Ritz… on transatlantic liners… at the opera… or the night club of the hour – everywhere the well-dressed world gathers, hands beckon with sparkling nail tints.
All shades!"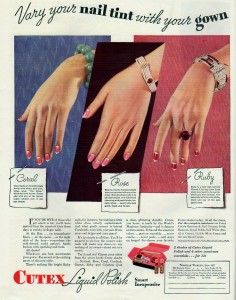 In these two ads, from the March 1933 issue of McCall's and the July 1933 issue of the Delineator, we are presented with these colors and also told which shades of clothing they work best with.
I've also noticed that in many ads and photographs from this year, the nail tips are bordered in white on both the top and the bottom. It's a look I haven't noticed much in any other time. So I was happy to see that one of these ads explained how to create the complete Cutex manicure. Here are the instructions:
THE COMPLETE CUTEX MANICURE… Scrub nails. Remove old cuticle ad cleanse nail tips with Cutex Cuticle Remover & Nail Cleanser. Remove old polish with Cutex Polish Remover. Brush on the shade of Cutex Liquid Polish that best suits your costume. Then use Cutex Nail White (Pencil or Cream) and finish with Cutex Cuticle Oil or Cream. After every manicure and before retiring, massage hands with the new Cutex Hand Cream.
Here is the second complete Cutex ad from 1933 that I found: