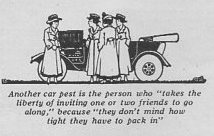 In 1921, most people did not have a car.
This article from the August 1921 issue of the Woman's Home Companion, in fact, makes the claim that only about 1 out of every 10 people had a car.
How accurate that is, I cannot say; but regardless, that does not at all imply that nobody wanted to ride in a car. Mary Westcott, the author of this amusing little article, states that the car-owners often invite guests to ride along with them on a Sunday, and most people are only too happy to take up the offer. Unfortunately, however, 8 out of 10 of these guests have some rather annoying traits. I will paraphrase them here for you – they are rather funny, and some of these types are well known even today. In between these examples, I am going to also show you some vintage car ads from 1927. Even though these ads are from a few years later, I think they are absolutely beautiful and so elegant, and so I wanted to share them here too.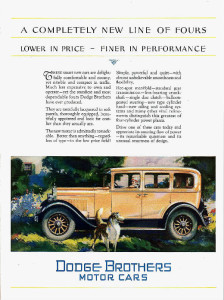 "CAR PESTS" – from 1921.
1) The "Grafter"
"I never invite her to accompany us anywhere that she does not ring in some inconvenient errand of her own to be done in a place quite off our intended route, or some long call on a friend, while we wait for her outside."
2) The guest who brings uninvited people along for the ride.
This guest "takes the liberty of inviting one or two friends to go along, because they don't mind how tight they have to pack in." But "perhaps you have promised them a ride which includes a steep climb in the car to some view – an easy feat with two passengers, an effort with three, and a cruel strain upon your car with five."
3) The guest who either hates or loves to speed.
This includes both the guest who is "afraid at more than fifteen miles an hour" and the one who rode "at fifty miles an hour with his cousin Tom, and tells you how much he liked it." (Fifty miles per hour was very fast, apparently.)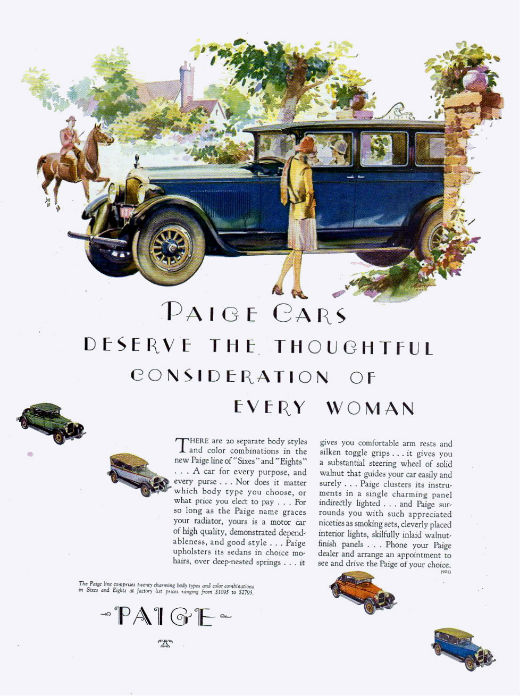 4) The guest who cuts your drive short.
"…the woman who, after she has accepted and I have made up my party for a long afternoon's ride, always at the last moment decides that she will have to be back early, and does not announce the fact till we are well outward bound, with pleasant anticipations."
5) The "where-are-we-now" guests.
"They punch you in the back every few minutes as your drive through the midst of the most uninhabited woodland and marshland stretches to ask, 'What town are we in now?'"
6) The too-talkative guest.
"…the guest who says, 'Now I know you don't want to talk, so don't bother about me! I'll just sit quiet as a little mouse!' Then she talks steadily the rest of the way."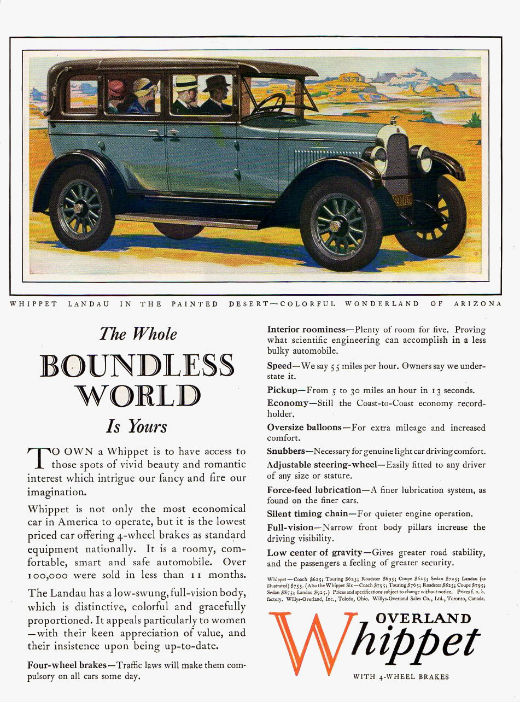 7) The "backseat driver.
"He sits bolt upright on the edge of the seat, his eyes glued to the road. 'Careful,' he warns, 'car coming.' Or, 'Better get over to the right – car in back of you wants to pass…Pretty close shave!'"
However, despite all the complaints, the author still insists that it is possible to find a "good guest", and urges her readers to do so:
"To every car owner, then, I would say, 'Do not be discouraged. Search diligently until you find a convenient supply of good guests who can find real pleasure in the day without marring it for you or for each other.'"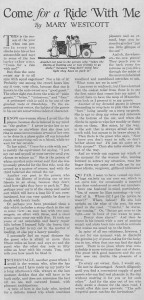 One more ad, for the "Crysler 72″ from 1927, can be found here.