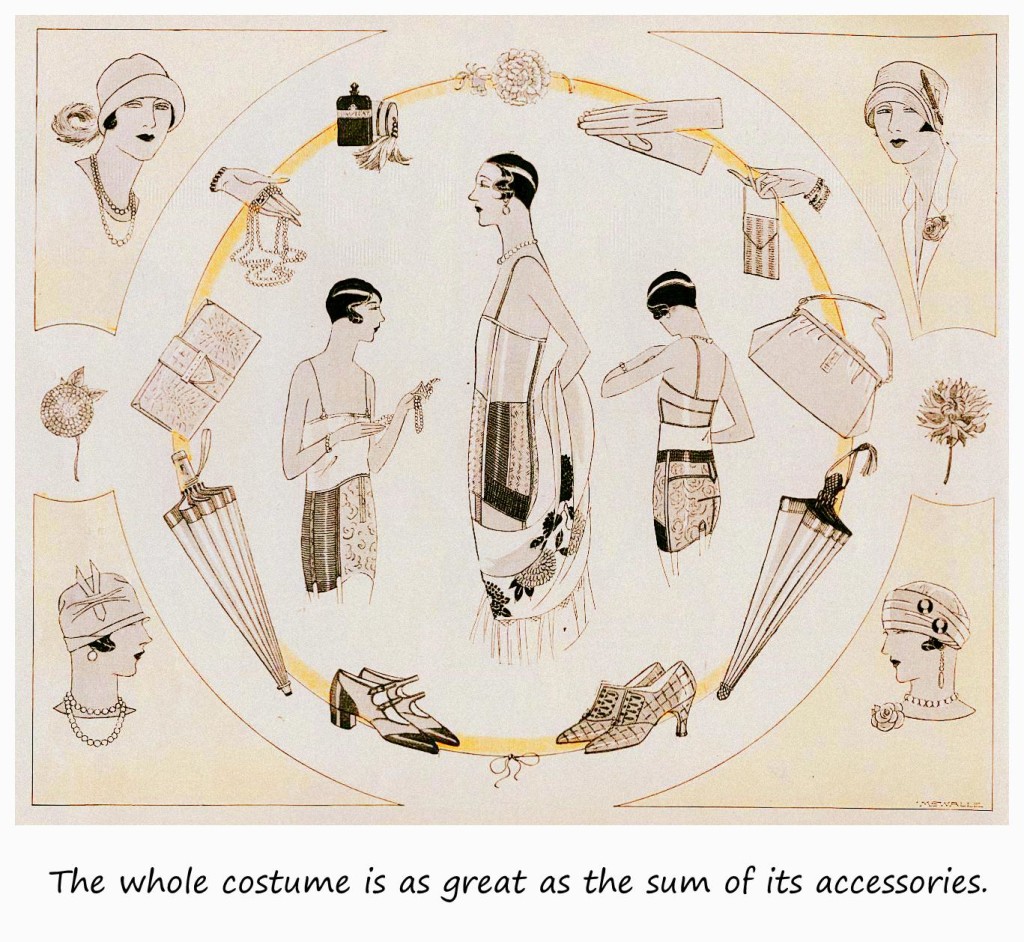 The February 1926 issue of the Delineator magazine features all sorts of fascinating insights into mid 1920′s life and style, but the article I am sharing here is one that jumped out at me more than any other. 
Here the magazine uses both incredible art and detailed text to keep their audience up to date with the absolute latest in fashion accessories. For us, almost 90 years in the future, it serves as one of the best ways I've come across to immerse ourselves in the fashion rules of the jazz era.
The elegant illustration full of every kind of accessory imaginable is accompanied by two pages of writing that goes in to great detail to describe each of them. Here, I am including article excerpts about each type of accessory.
Hats for spring will be small, larger or large, but it is the small hat that plays the biggest part.

Hair still follows the shape of the head as closely as possible, whether it is worn long or short… The sleek hair-cut, showing the ears and resembling a boy's, is seen occasionally, but requires a beautiful head and perfect features.

Corsets today shade from well-boned coutil models that take the large figure firmly in hand to absolute zero for the young girl and for the slender, almost fleshless figure… Women who wore elastic corsets or no corsets at all are now trying to reduce their diaphragms and flatten their abdomens.

Jewelry has felt the influence of the ensemble idea. It is smart to have matching filigree beacelets and necklace and matching pins for the hat, shoulder and hip.

Hand-bags are quite large, especially the new pouch shapes in suede or antelope, mounted on amber, tortoise, gold or self-covered frames… Evening bags are frequently of the envelope type set with rhinestones or woven in gold or silver or steel beads, sometimes with jet, or of grosgrain silk worked in Beauvais or ribbon embroidery.

Umbrellas are short and stubby, with handles of carved and painted wood, of amber, ivory, galiith or enamel, of wood covered with pigskin or carved in dogs' head. They are of red, purple, or green to match a rain-coat, of black or of brown.

Flowers are worn on the lapel or collar of coats and coat-dresses, on the shoulder or hip of afternoon and evening frocks.

Stockings for sports, steamer and country wear are of wool, mostly in monotone effects and quiet patterns. Very fine chiffon lisle and silk hose in beige shades is correct with tailored suits and simple wool dresses.

Shoes for sports, the country and the steamer are the oxford or brogue type with low heels. They are of tan calf or antelope trimmed with calf… Shoes with afternoon dress are of kid, suede, patent leather, plain or trimmed with contrasting kid or snakeskin. They are quite ornate in many cases, both in cut and trimming, though the general effect is simple and extremely dainty.

Gloves with tailored or sports clothes are made of the heavy washable leathers – chamois, doeskin, antelope, etc., or their fabric imitations… For afternoon they are of delicate colored beige in the biscuit, nude and gray shades, matching the stocking.