"When you buy fruits and vegetables, milk, meats, pickles and condiments marked with the name Libby, you're getting in convenient form the best that the whole world produces. So make this page a buying chart; it's full of good suggestions."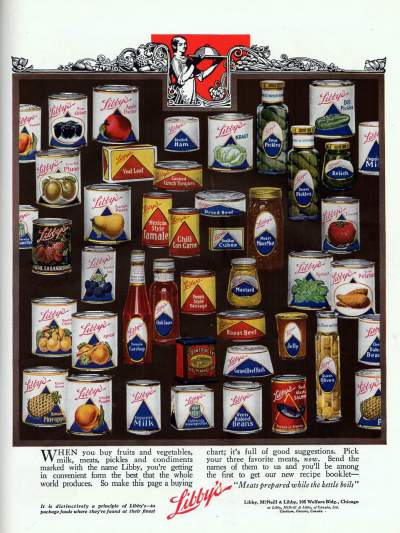 This ad is full of so much information that it's hard to see everything! It is a Libby's ad from 1922, and features an illustration of a huge variety of canned goods.
I found cans of all of the following, believe it or not: peaches, ripe olives, apple butter, deviled ham, kraut, sour pickles, dill pickles, plums, veal loaf, cooked lunch tongues, sweet pickles, relish, evaporated milk, asparagus tips, loganberries, Bartlett pears, Mexican style tamales, chili con carne, bouillon cubes, dried beef, moist mincemeat, tomatoes, blackberry jam, cherries, apricot, tomato catchup, chili sauce, Vienna style sausage, mustard, roast beef, spinach, sweet potatoes, jelly, corned beef, corned beef hash, green olives, oven baked beans, Hawaiian pineapple, yellow Cling Peaches, and red Alaskan salmon!
I always like looking at the packaging of old vintage products, and that's one reason this ad is so interesting to me. I also admit that I didn't realize the extent of choices consumers had in the 1920′s.
If you notice, there was an offer attached to this ad also –
Pick your three favorite meats, now. Send the names of them to us and you'll be among the first to get our new recipe booklet – "Meats prepared while the kettle boils"
I hope you enjoyed the almost hundred year old ad as much as I did.
"It is distinctively a principle of Libby's – to package foods where they're found at their finest"