"Cook has an afternoon out each week, and certainly every homemaker should be able to join a club or participate in some pleasure that takes her away as often as this. Surely the preparation of the evening meal need not prevent your having an 'afternoon off,' if you will do a little intelligent planning and prepare as much as possible in the morning."
Yes, in the early 1920′s, it was not uncommon for a family to have a cook, and/or a maid, as an employee to help around the house.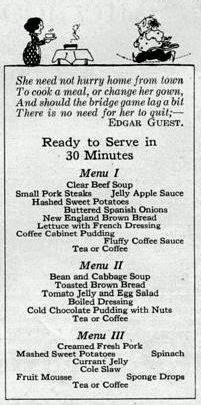 The menu from this February 1923 issue of the Women's Home Companion magazine features a menu with your choice of three "30 minute meals". Where today these fast meals are usually needed in order to put a quick dinner on the table after either a day full of work and commuting, or taking care of the children and house on one's own, (or even simply preferring not to spend too much time in the kitchen), 90-odd years ago the recipes were being offered as a way for the housewife to deal with having no household help to assist with the cooking on one day a week.
You may notice that there is a lot of pork on the menu (shown in the image to the left). That was intentional:
"The three menus on this page are based on a 'first cousin' to cold ham. A fresh shoulder of pork does not cost as much as a ham and it may be utilized in many different ways. Unless the family is very large, one shoulder, weighing from five to seven pounds, will provide steaks for one meal, the meat for the bean and cabbage soup for one meal, and the creamed pork for the third meal. There may even be a little more meat left, which can be used for a mock chicken salad, if combined with chopped celery or cabbage and salad dressing."
However, the pork recipes supplied here are fairly common and similar to recipes that can be found easily today. To me, the dessert recipes stand out as particularly interesting and unlike what you may see in the present time.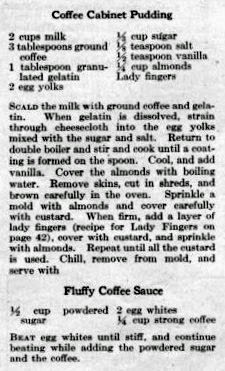 I'll be presenting here the recipes for "Coffee Cabinet Pudding," and "Fluffy Coffee Sauce." Although coffee is possibly more popular now than ever, it's rare to see it in the incarnations here. For one thing, the gelatin found in so many vintage recipes but often neglected today is found here, in the pudding, and creates a molded dessert. For another, I've never seen a dessert sauce that combines coffee with egg whites (although of course various types of egg coffee do exist as a drink). These two recipes are ones I will most likely never try, but I must admit a certain curiosity.
The recipes are a little hard to read so I've transcribed them here:
Coffee Cabinet Pudding
2 cups milk
3 tablespoons ground coffee
1 tablespoon granulated gelatin
2 egg yolks
1/3 cup sugar
1/8 teaspoon salt
1/2 teaspoon vanilla
1/4 cup almonds
Lady fingers
Scald the milk with ground coffee and gelatin. When gelatin is dissolved, strain through cheesecloth into the egg yolks mixed with the sugar and salt. Return to double boiler and stir and cook until a coating is formed on the spoon. Cool, and add vanilla. Cover the almonds with boiling water. Remove skins, cut in shreds, and brown carefully in the oven. Sprinkle a mold with almonds and cover carefully with custard. When firm, add a layer of lady fingers, cover with custard, and sprinkle with almonds. Repeat until all the custard is used. Chill, remove from mold, and serve with Fluffy Coffee Sauce.
Fluffy Coffee Sauce
1/2 cup powdered sugar
2 egg whites
1/4 cup strong coffee
Beat egg whites until stiff, and continue beating while adding the powdered sugar and the coffee.