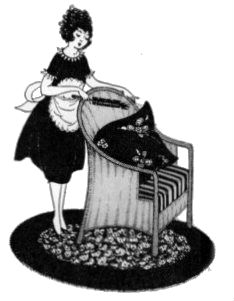 "Quite frequently, friends, when looking at my collection of cleaning brushes, ask, 'How did you know what sizes and shapes to select?' This always brings the mention of my one guiding point in their purchase – whenever a corner or crevice is difficult to reach in cleaning, I try to find a brush with bristles and a handle which will do the work. And I usually find the needed tool."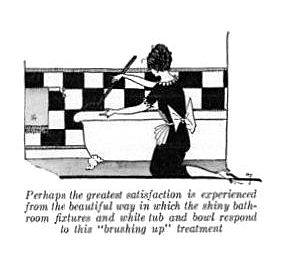 The May 1922 issue of the Woman's Home Companion magazine includes an article called "Brushing Up on New Ways of Handling Housework." In it, the author explains about the numerous specialized brushes she uses to help clean and dust her house. The list seems inexhaustible – just trying to come up with a place where I could possibly store all of those brushes seems to negate any ease they would bring me in cleaning!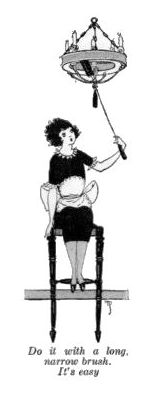 But to me the best part of the article is the charming little 1920′s style illustrations that fill the pages. The housekeeping flapper in her 1920′s bob holds up a different brush in every picture, and even uses one to dust off her phonograph records to "keep the music smooth and clear"! I can only wonder what great songs those records held.
To give you an idea of just how many different cleaning brushes we are talking about here, here is a list of the various accessories you'll need for the daily dusting rounds – and keep in mind that this does not include floors, walls, kitchen, bathroom, which all need their own brushes too:
For the daily dusting rounds:
a. a duster with a 12-inch handle, with a brush composed of strands of treated coarse cotton threads.
b. an old-fashioned dust cloth – to apply furniture polish to the wood every two weeks.
c. a long, narrow brush with a flexible handle – to dust the radiator, sewing machine, chandeliers, dusting under pianos, bed springs, etc.
d. a small brush – to brush dust off of the door and window screeens.
e. a soft hair bristle brush – to dust velvt and velour upholstery.
f. a brush with curved ends – to remove the dust around buttons and tufted places on upholstered furniture.
g. a soft brush – to remove the dust from phonograph records, lamp shades, and delicate curtains.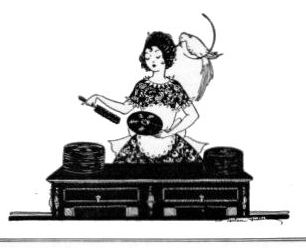 If you are interested in reading more about all the types of brushes and how best to use them, I have scanned the article in its entirety at the end of this entry (just click on the thumbnails).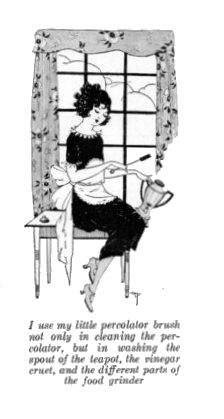 Though this was an article about brushes, the author ends by admitting that they are not enough, in her opinion, to keep a house sufficiently clean on their own:
"Brushes, brooms, and vacuum sweepers are the great dusting tools. I do not consider either one or two of these types of appliances complete equipment, but with the three, there is little chance of much dust lingering in any home."