"The charm of its quaint, fascinating music and its wonderful tempo for the dance were greatly admired and made it The Recognized Orchestra for Social Affairs."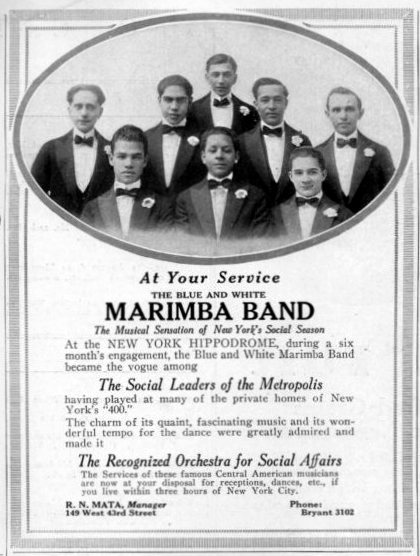 When I came across this ad in the October 1916 issue of Vogue magazine, I was hearing of the band for the first time. Although I was not at all familiar with the Blue and White Marimba Band, just a quick internet search shows that there are a great number of sites where you can still hear their music now. The band was from Guatemala and performed for six months at New York City's Hippodrome theater. Probably the best information I was able to find on them came from this great site, The Percussive Arts Society. On that site, there is an excerpt from the 1916 Columbia Records catalog which states:
The Blue and White Marimba Band, latest Columbia Artists, have been the elect musical sensation of New York's social season. Besides appearing all winter in the Hippodrome, these musicians have played in the private homes of practically the Blue List of New York's "400″. Their musical gifts are now offered [to] the public through their first Columbia recordings.
Not only could you hear them on records, though, according to this Vogue ad you could also hire them to play for your occasion! As the ad explains,
The Service of these famous Central American musicians are now at your disposal for receptions, dances, etc., if you live within three hours of New York City.
I'm hoping to be able to find more on this band in my other documents of the time.