"The Searchlight of Public Favor finds no flaw in Royal Worcester or Bon Ton Corsets. They are the best."
As any lover of vintage fashion knows, corsets were an irreplaceable part of any turn of the century woman's outfit.
Each season of fashion featured a different shape into which corsets could shift the body so that a woman's posture would fit the current style. Vintage fashion magazines guided women through both gorgeous fashion plates and patterns, as well as advertisements for corsets that popped up in almost every issue. This entry features two such ads, both from the April 1906 issue of the Ladies' Home Journal.
The W.B. Nuform Corset is a concentration of all the right theories of proper corset support. Made in so many styles – at so many prices – that any woman of any age or physique can find a properly fitting model, in any degree of quality at any dealer's."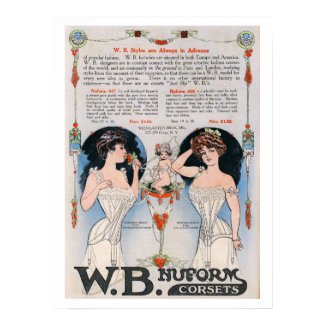 Vintage Corset Ad Print 2 Poster
by
christine592
Find other designs of Art &
Posters
at Zazzle.com