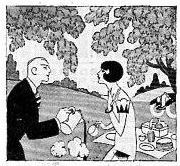 Wow, this is a harsh one.
This little cartoon poem was found tucked away on one of the final pages of the August 1925 issue of McCall's magazine, in a short feature called "The story of Plain Jane," by Louise Thomas. It's an advertisement of sorts for the various booklets McCall's offered to help their readers improve themselves. To summarize the point of this cartoon, you only need to read the rhyme that accompanies the first panel:
"This is the story of Plain Jane. At least, her friends all thought her plain because she did her hair this way – which, you'll agree, is not AU FAIT. Her figure, too, was not the kind one sees in circles most refined. In short, Jane's life was far from gay until she learned, one happy day, how one may charm with dashing looks just like the girls in story books."
The cartoon goes on to assure the reader that "…if a lady longs for charm whose hair is queer, whose looks alarm, who does not have a single beau, with careful study she may gain true love and beauty, like Plain Jane."
Here you go – all six panels of the McCall's cartoon. Be sure to read the verses to each!