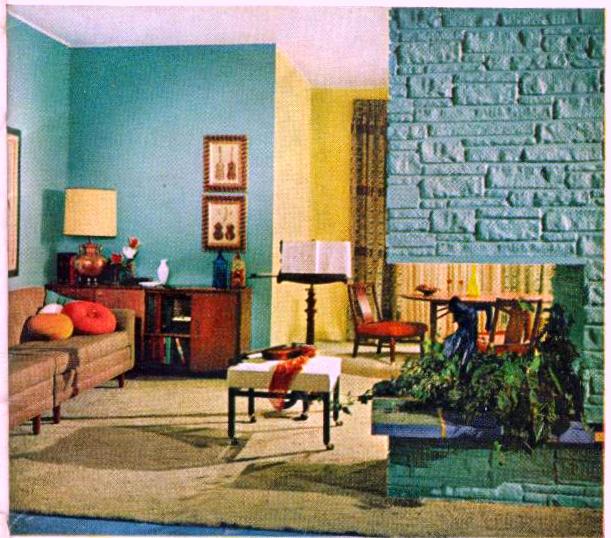 The pictures in this entry are from a great little booklet called the "Sherwin-Williams Home Decorator and How-to-Paint Book" from 1958. This book is full of great mid-century color and style in all its vintage glory!
The photo with the turquoise fireplace and walls is actually a view of the living room and dining room together. The booklet states,
"One harmony, two different rooms. The turquoise in the living room is picked up in the draperies, just as yellow in the dining area matches the accessories. "
I love the brightness of these two rooms and it would be pretty easy to replicate this idea in a more modern room. As always, I start by turning to my secret weapon source for paint color (okay, hardly a secret), the Sherwin Williams website that has a whole section full of historical paint colors for sale today.
Here is the "suburban modern" brochure, which sure enough offers a paint color called Holiday Turquoise, a surprisingly close match to what is pictured in the room here (and in fact, this is the exact name of the Sherwin-Williams paint in the book, which leads me to believe it is probably the same one!) The dining room walls seem to me to be closer to the chartreuse rather than the sunbeam yellow, but it's a close call and you may prefer one or the other. The paint color in the 1958 book is called "citron" which does normally have a hint of green. Either way, these colors are all obviously pretty typical for the 1950′s and if you are looking for that mid-century retro fill in your room, these would be the perfect colors to start with.
Next step is just to round up a bunch of sunny yellow accessories of your own to add some contrast to the room! Just as in the picture, I'd start with a lamp. Yellow throw pillows, again trending more towards the chartreuse end of the scale, yellow area rugs, and wall art are great little choices for adding the yellow accents this room needs. Then just find a few orange accents for a contrasting touch.
Finally, for the dining room, you want to look for some curtains that carry over the turquoise right into this room. Try to find any matching curtains with a pattern decorating them, rather than a solid turquoise which would probably be too much.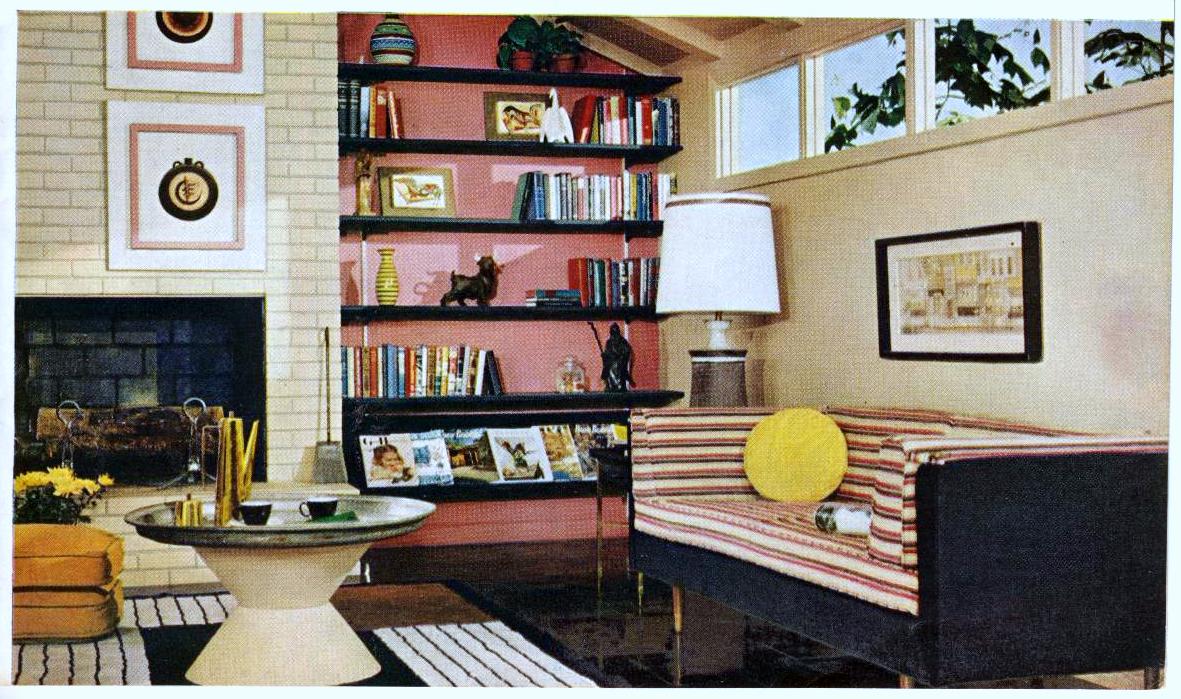 As you can see, it's not hard at all to add a great mid-century 1950′s touch to your main rooms. Use these pictures as a guide (I've included a couple of other pictures from the 1958 booklet of awesome looking living rooms) – just start with the paint colors, look for similar accent pieces (don't forget to scour the thrift stores), and go from there. And most importantly, add your own spin on things! This way you'll end up with an amazing vintage-inspired room that doesn't just look like an exact textbook copy.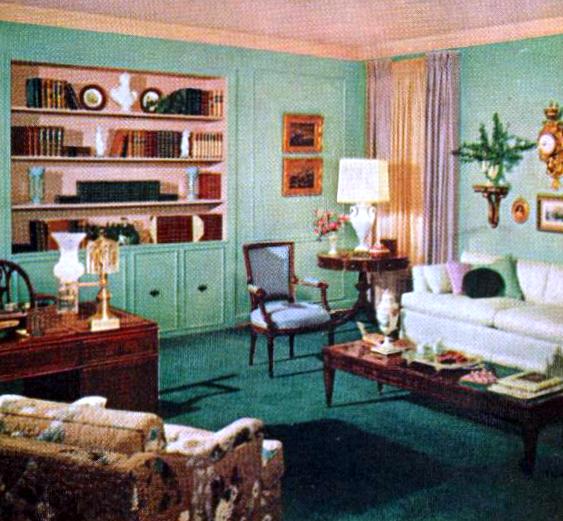 There are plenty more pictures in this booklet; if you'd like to see any particular rooms from the book for inspiration, just let me know and I'd be happy to share them!