"When there's a birthday coming up – or an anniversary in the offing – Cherry-Blush Nut Cake's the perfect answer to your cake question. And if you'd like a cake for supper that's as good as it is beautiful, and no trouble to make – get Pillsbury's SUPER-SOFT SNO SHEEN from your grocer and whip up this luscious Cherry-Blush Nut Cake today! With the first forkful of delicate, fluffy cake and delicious cherry-nut frosting, there'll be six cheers for Mom – her cakes are twice as good with SNO SHEEN!"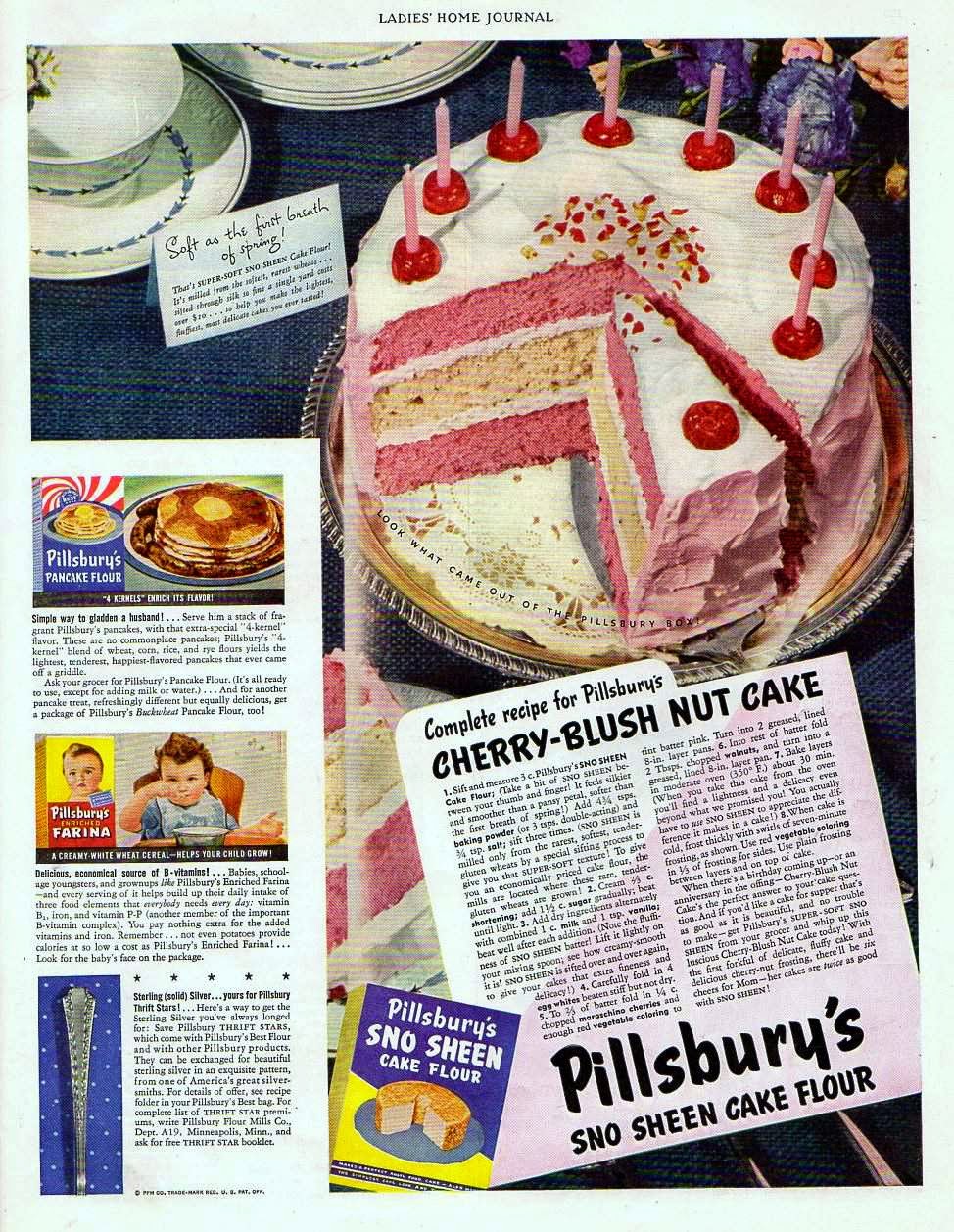 From the April 1942 issue of The Ladies Home Journal magazine comes this Pillsbury recipe for "Cherry-Blush Nut Cake."
The recipe is found in an ad for Pillsbury's Sno Sheen Cake Flour, which the ad explains is "milled from the softest, rarest wheats… sifted through silk so fine a single yard costs over $10… to help you make the lightest, fluffiest, most delicious cakes you ever tasted!" The ad describes the flour in rapturous language throughout, calling it "soft as the first breath of spring," and "silkier and smoother than a pansy petal." In transcribing the recipe itself, I also had to leave out long sentences praising Sno Sheen that were inserted into the steps, sentences such as "Note the fluffiness of SNO SHEEN batter! Lift it lightly on your mixing spoon; see how creamy-smooth it is! SNO SHEEN is sifted over and over again, to give your cakes that extra fineness and delicacy!"
I was happy to see that the recipe appears twice as long as it really is due to this excess of language.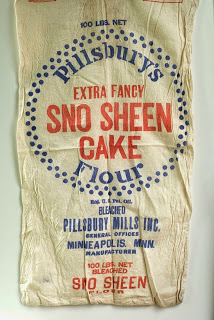 Before I get to the actual recipe, I would like to note that it calls for seven-minute frosting. This is a very common type of frosting to make that has been around for ages and which is often called for in my vintage magazines where it seems no recipe is considered necessary. A quick Google search leads to hundreds of recipes. I found a good recipe on the King Arthur Flour Site, which also states that "Seven minute frosting has been around since the early 1900s, and probably before that. Pastry chefs know this type of frosting as a Swiss Meringue. To make the unique texture this frosting is known for, egg whites and sugar are combined and beaten over simmering water, to dissolve the sugar and achieve a very light, fluffy texture. The frosting must be used promptly, because it firms up as it sits and cools."
And without further ado, here is the cake recipe (which I am sure could be made even without the wonders of SNO SHEEN flour, although I do wish I could try it that way!)
Pillsbury's Cherry-Blush Nut Cake, from 1942
1. Sift and measure 3 c. Pillsbury's SNO SHEEN Cake Flour. Add 4 3/4 tsps. baking powder (or 3 tsps. double-acting) and 3/4 tsp salt; sift three times.
2. Cream 2/3 c. shortening; add 1 1/2 c. sugar gradually; beat until light.
3. Add dry ingredients alternately with combined 1 c. milk and 1 tsp. vanilla; beat well after each addition.
4. Carefully fold in 4 egg whites beaten stiff but not dry.
5. To 2/3 of batter fold in 1/4 c. chopped maraschino cherries and enough red vegetable coloring to tint batter pink. Turn into 2 greased, lined 8-in. layer pans.
6. Into rest of batter fold 2 Tbsps. chopped walnuts, and turn into a greased, lined 8-in. layer pan.
7. Bake layers in moderate oven (350 degrees F.) about 30 min.
8. When cake is cold, frost thickly with swirls of seven-minute frosting, as shown. Use red vegetable coloring in 1/3 of frosting for sides. Use plain frosting between layers and on top of cake.