"Best's Watchung Welcomes Summertime!"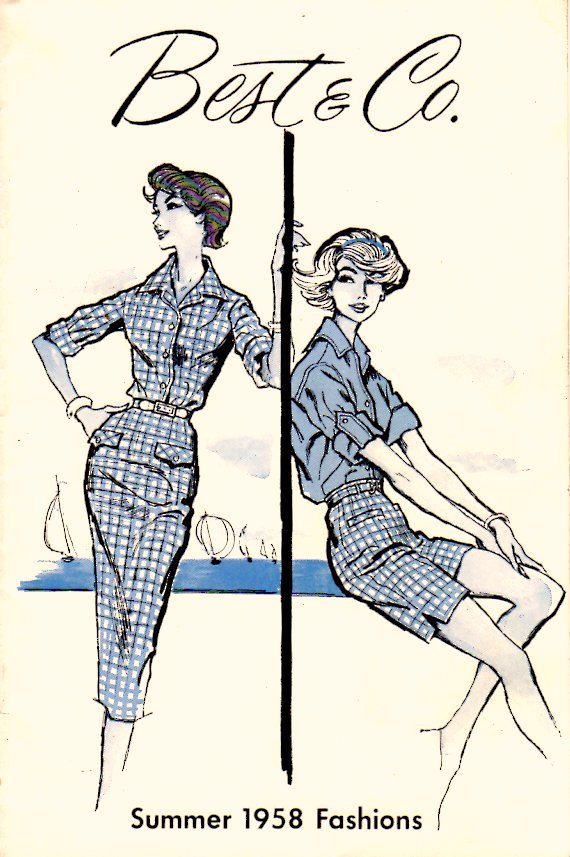 "We're simply bursting with fresh and complete stocks of exciting new warm weather fashions from classic sportswear and swimsuits to lovely silks. It's always a pleasure to shop at Best's where the service is prompt and courteous, where outstanding quality and value are traditional."
All of the illustrations in this entry are from a little vintage catalog I have from Best & Co. This catalog is from the Summer 1958 collection and was sent out from the Watchung, NJ branch of the Best & Co. Store.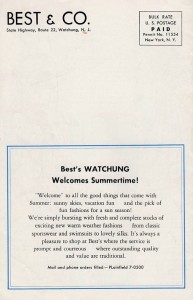 Both by glancing at the fashions and by doing some research online, it is obvious that these are not high-end, cutting edge styles nor are they meant to be. Rather, it seems that Best & Co set out to produce practical clothes for real women while still embracing the trends of the day. If like I was, you are unfamiliar with this brand, I would recommend reading this Best & Co. Chronology, as well as at the Vintage Fashion Guild, both of whom had some good information.
The descriptions given for some of the drip-dry separates listed above:
A1 – "Field Flowers" on an Everglaze sheer cotton bariste shirt; roll sleeves and small Puritan collar. White with geranium pink-and-blue combination. $4.95

A3 – "Polka stripes" convertible collar sleeveless shirt of "Sildara" (dacron and viscose). White with geranium pink or white with porcelain blue. $4.95
Here are some choices in blouses:
Notice that some of the brands available here include Jane Holly, Dotti Originals, Mattique, and Yolande.
I hope you've enjoyed this glimpse at some typical 1950′s women's fashions.