American Fashions for American Women - Famous Actresses as Fashion Editors
The September 1913 issue of the Ladies' Home Journal was billed as the "Autumn Fashion Number." As such, it features an incredible number of gorgeous illustrations of the latest styles from the fall of 1913, and I have selected a few to show here.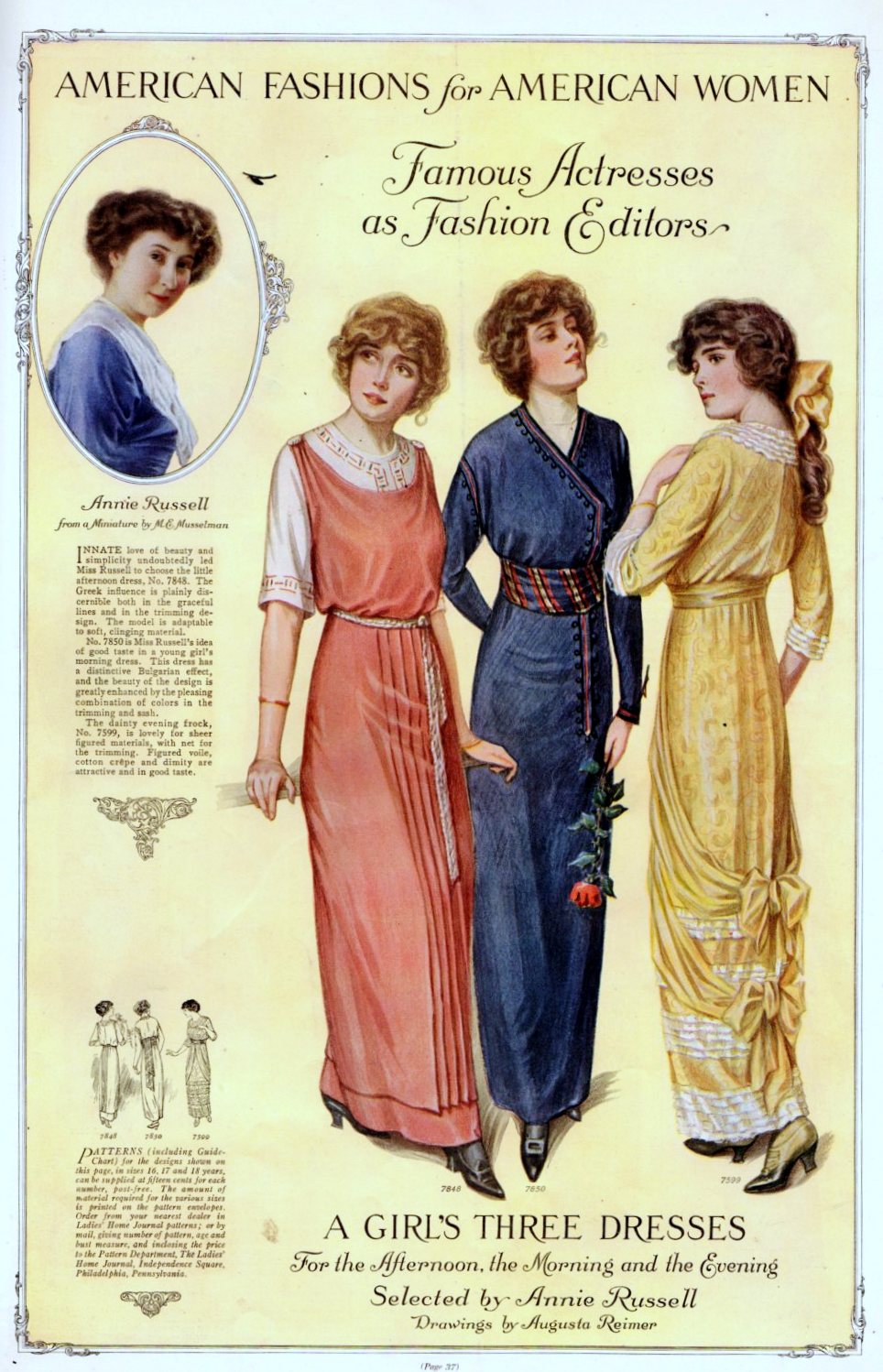 This beautiful fashion plate shows off "A Girl's Three Dresses for the afternoon, the Morning and the Evening". These three styles were supposedly chosen by Annie Russell, a "famous actress" according to the magazine. I found out a bit about her online, and it seems that she had a long career, broken up by frequent bouts of illness, and she retired for good in 1918. So at the time this magazine was published, she still had a few years of acting professionally ahead of her. On the page, the fashions are described as such:
"Innate love of beauty and simplicity undoubtedly led Miss Russell to choose the little afternoon dress, No. 7848. The Greek influence is plainly discernible both in the graceful lines and in the trimming design. This model is adaptable to soft, clinging material.

No. 7850 is Miss Russell's idea of good taste in a young girl's morning dress. This dress has a distinctive Bulgarian effect, and the beauty of the design is greatly enhanced by the pleasing combination of colors in the trimming and sash.

The dainty evening frock, No. 7599, is lovely for sheer figured materials, with net for the trimming. Figured voile, cotton crepe and dignity are attractive and in good taste."
Another page of fashion in this issue features "The Russian Note in the New Clothes".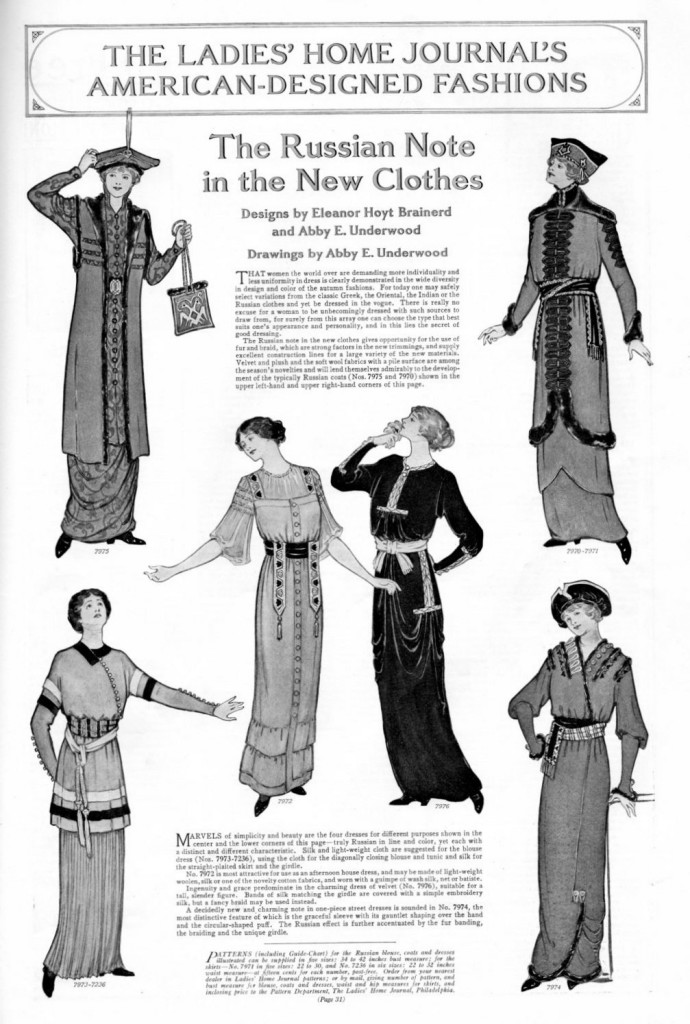 "The Russian note in the new clothes gives opportunity for the use of fur and braid, which are strong factors in the new trimmings, and supply excellent construction lines for a large variety of the new materials. Velvet and plush and the soft wool fabrics with a pile surface are among the season's novelties and will lend themselves admirably to the development of the typically Russian Coats (Nos. 7975 and 7970) shown in the upper left-hand and upper right-hand corners of this page."
And finally, here are examples of "The Girl's Autumn Waist and Suit":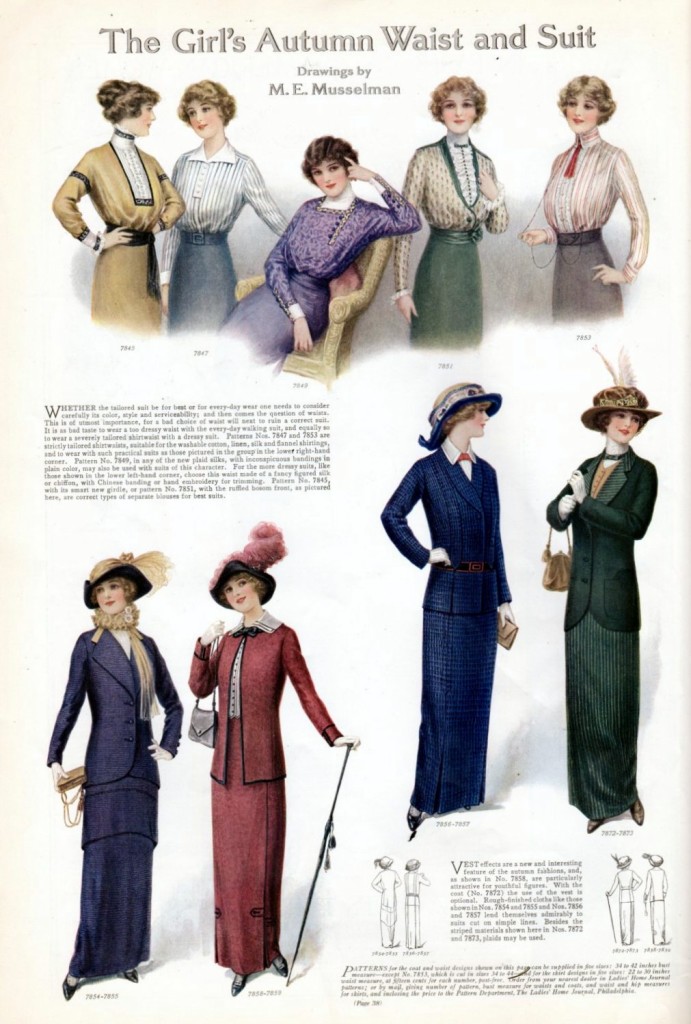 "Whether the tailored suit be for best or for every-day wear one needs to consider carefully its color, style and serviceability; and then comes the question of waists. This is of utmost importance, for a bad choice of waist will next to ruin a correct suit. It is as bad taste to wear a too dressy waist with the every-day walking suit, and equally so to wear a severely tailored shirtwaist with a dressy suit."