The June, 1934 issue of the Woman's Home Companion included the following beautiful fashion illustrations. The pages were divided up into evening gowns (evening fabrics from Paris, to be more specific), clothing in "sail red" or Breton red, and finally travel clothing suggestions.
I will share these illustrations with you here, along with excerpts of the articles themselves, which provide some insight into that season's latest fashion trends.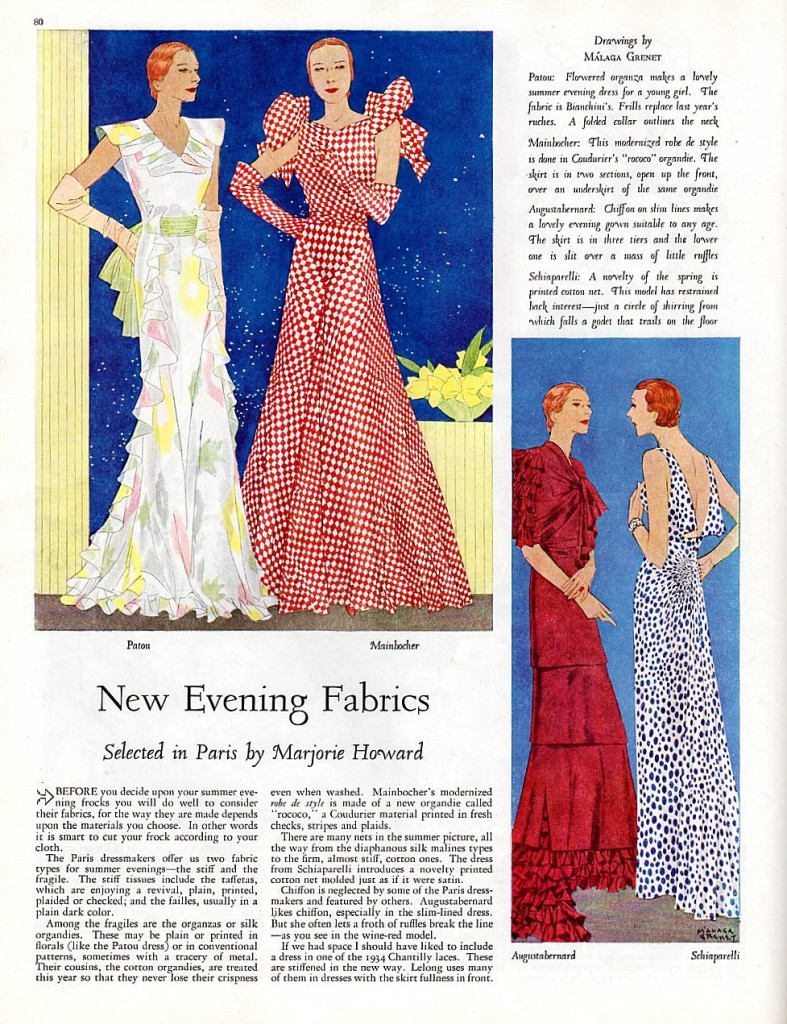 The image above, on "Evening Fashions from Paris," features gowns by Paton, Mainbocher, Augustabernard, and Schiaparelli.
"The Paris dressmakers offer us two fabric types for summer evenings – the stiff and the fragile. The stiff tissues include the taffetas, which are enjoying a revival, plain, printed, plaided or checked; and the failles, usually in a plain dark color.
Among the fragiles are the organzas or silk organdies. These may be plain or printed in florals (like the Patou dress) or in conventional patterns, sometimes with a tracery of metal. Their cousins, the cotton organdies, are treated this year so that they never lose their crispness even when washed. Mainbocher's modernized robe de style is made of a new organdie called 'rococo', a Coudurier material printed in fresh checks, stripes and plaids."
Next come the fashions in "sail red":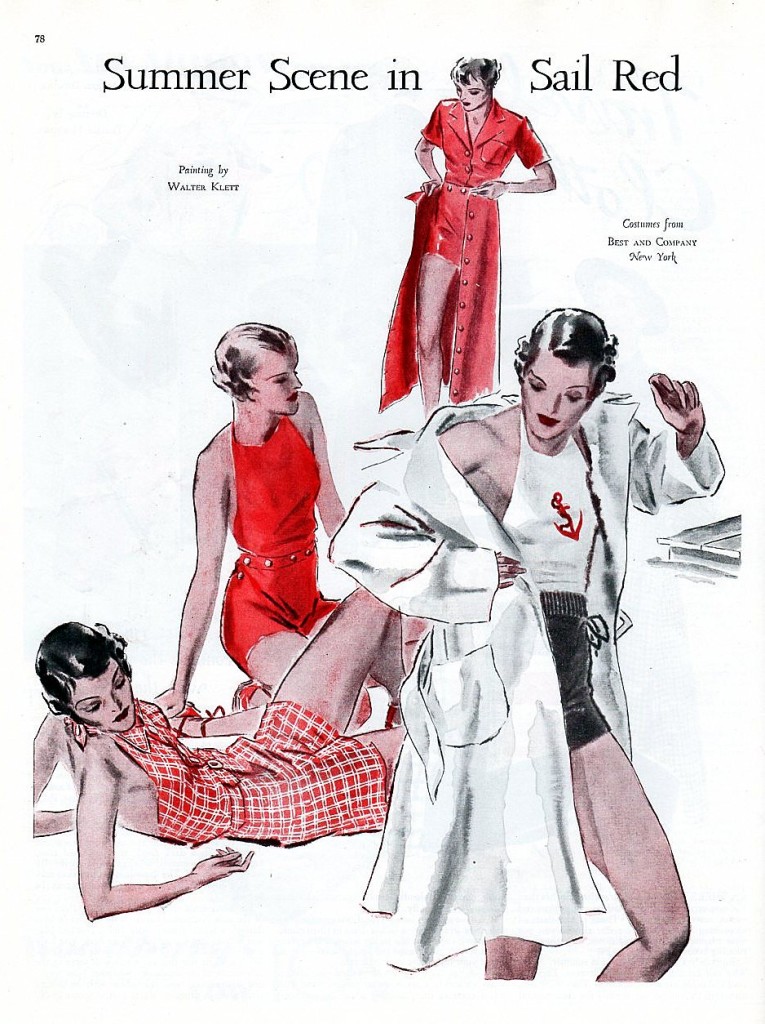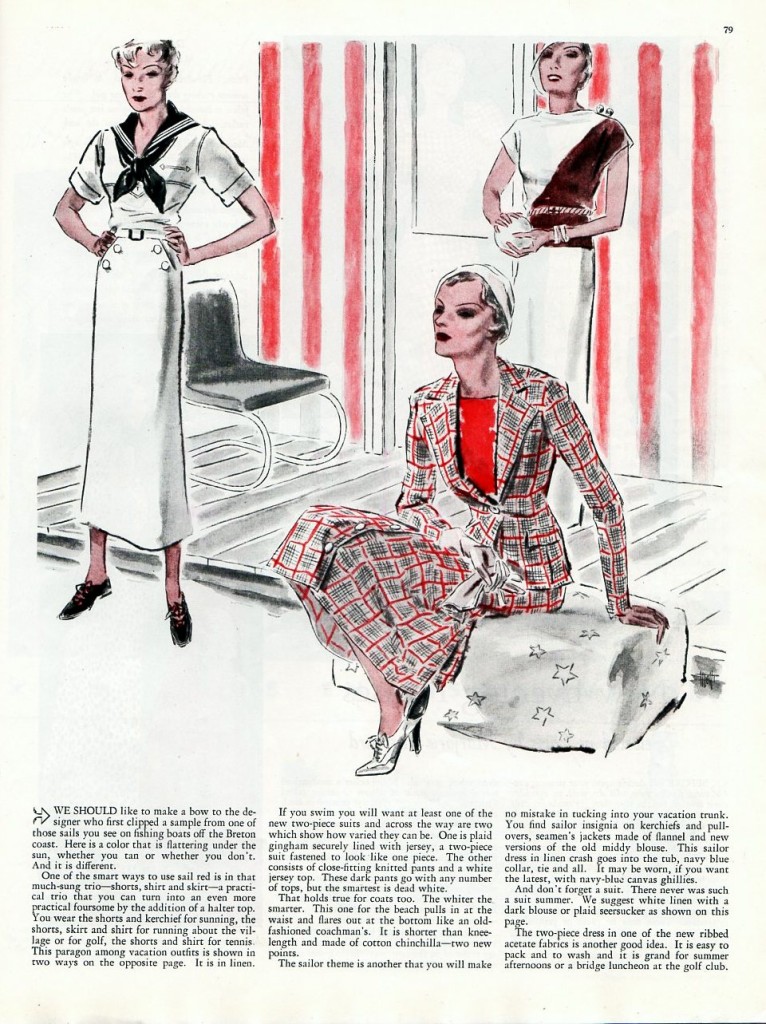 These fashions are all by Best and Company, New York.
"One of the smart ways to use sail red is in that much-sung trio – shorts, shirt and skirt – a practical trio that you can turn into an even more practical foursome by the addition of a halter top. You wear the shorts and kerchief for sunning, the shorts, skirt and shirt for running about the village or for golf, the shorts and shirt for tennis. This paragon among vacation outfits is shown in two ways on the opposite page."
And finally, we turn to "Travel Clothes."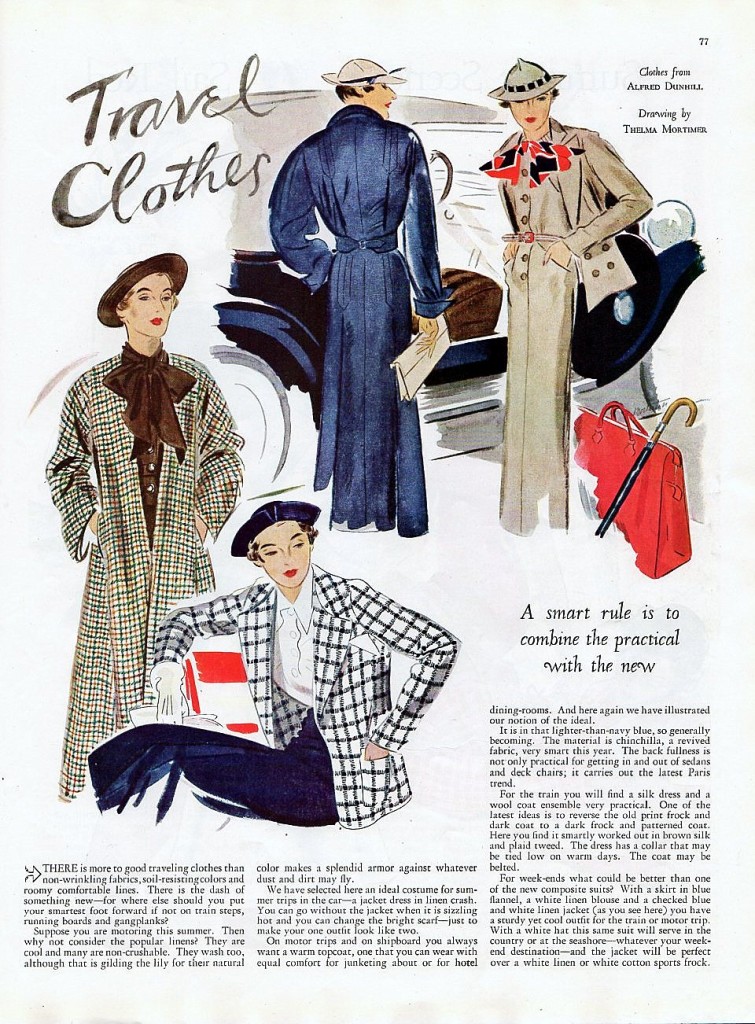 These clothes are from Alfred Dunhill.
"We have selected here an ideal costume for summer trips in the car – a jacket dress in linen crash. You can go without the jacket when it is sizzling hot and you can change the bright scarf – just to make your one outfit look like two."
"For the train you will find a silk dress and a wool coat ensemble very practical. One of the latest ideas is to reverse the old print frock and dark coat to a dark frock and patterned coat. Here you find it smartly worked out in brown silk and plaid tweed."
I hope that you enjoyed these, and perhaps even found a bit of inspiration for your own modern style.