I came across this interesting ad in a copy of the October 1916 issue of Vogue magazine: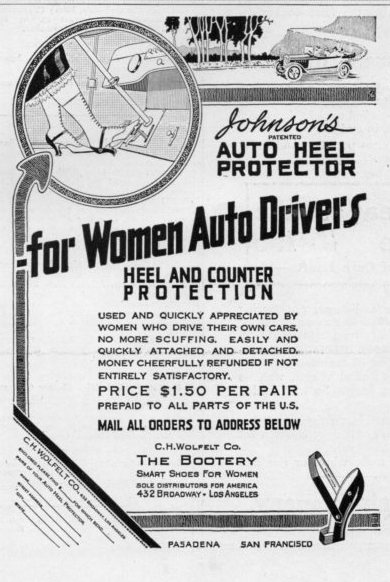 I love this little ad, from the picture of the vintage car driving down the road, to the close-up of the women's shoe demonstrating how the heel protector works. However, the ad didn't go into much detail about how exactly these were to be used, although it's probably simple enough. But various newspapers and advertising booklets of the time were more explicit in their description.
From
"Automobile Topics, Volume 45. E.E. Schwarzkopf, 1917″ comes this explanation:
"It is to eliminate such damage and to permit ladies who drive their own cars to wear any shoes they please in driving that the C.H. Wolfelt Co., Los Angeles, Cal., has offered Johnson's heel protector, which consists of a patent leather shield slipped over the heel. It is shaped to fit snugly and is held in place by an elastic band that slips over the heel of the shoe and an adjustable band, partly of patent leather and partly of elastic, which goes over the instep and fastens with a metal clasp. The guard is lined with cream-colored kid."
And the company's public relation person was apparently successful in getting the launch of this product into newspapers across the county. I was able to locate articles in both The Pittsburgh Press and the Richmond Times-Dispatch on September 10, 1916 introducing the heel protector to their readers. The "punny" article read in part:
"Superficial thinkers would be apt to assume that the woman who drives her own car must be "well heeled," but driving a car has been found to be very hard on a woman's shoes, and the reverse has heretofore been the case. The constant changing of the position of the feet resulting in scuffing the heel and counter.
However, thanks to the ingenuity of a Los Angeles institution, it is now possible for the woman who drives to be 'well heeled' sartorially as well as financially."
I don't know how long this product was actually on the market, but I'm curious to know if it ever becaume a success with women drivers!